Artist Name: Geno Orphanopoulos
Music Genre: Rock
Other Genres: Trop-Rock, Pop-Rock, Soft Rock
Websites or Social Media Pages
ReverbNation: https://www.reverbnation.com/genoorphanopoulos
Facebook: https://www.facebook.com/Gene-O-628235710611559
Official Website: http://geneo.rocks
San Francisco Bay Area native Gene O. became interested in the Arts at an early age when he first began sketching and painting, then took up the guitar at age 10. He then became interested in the Theatre Arts, landing Lead Actor roles in musicals and comedies. He's also studied multiple disciplines of the Martial Arts under the guidance of Black Belt Instructors.
Gene O. has continued to enjoy the Creative Arts and has followed his passion for Music as a Songwriter, Singer, Performer, Multi-Instrumentalist, and Producer.
Gene O. performed in and toured with multiple Northern CA Bay Area Rock Bands including ADDICTION and THE MAKE. He's shared the stage with Major Label Recording Artists such as THE OUTFIELD, THE ROMANTICS, STEEL BREEZE, JESSE COLIN YOUNG, QUIET RIOT, and the Bay Area's own HUEY LEWIS and THE NEWS, GREG KIHN, and ERIC MARTIN. He's also had the pleasure of singing together with RONNIE MONTROSE, MARK FARNER (formerly of GRAND FUNK RAILROAD), KIP WINGER, MICHAEL ANTHONY (Van Halen/The Circle) & the legendary BOZ SKAGGS
Gene O. has Topped the ReverbNation Indie Artist Singer-Songwriter Charts as #1 in the San Francisco Bay Area since June 2020 and has since reached the Top 10 in both the U.S. & Global Charts as well. The complete discography of Gene O. tunes can be heard in their full-length versions and downloaded from ReverbNation, or your favorite Music Platform.
https://www.reverbnation.com/genoorphanopoulos
Gene O. has recently released:
"CRAZY WORLD" – THE NEW SINGLE
Co-Produced and Co-Written
by Gene O. & Jimmy Goings
(Featuring Grammy Award-Winning Trumpeter – Steffen Kuehn)
Copyright © 2020
"GENEOLOGY" – The Gene O. Debut Solo Album
Keep on Believin'
Sweet Infatuation
Someday She'll Know
Special
Peace of Mind
Heaven Help Us
Sleepless Nights
Reason To Fly
All songs Written, Performed, and Produced by Gene O. Copyright © 2018
Contact Information: Booking, Licensing, and Media
Gene O. Productions
Tel: +1 (925) 400-7443 (PST)
Email: genotunes@gmail.com
Official Website and VIP Club Member Registration: http://geneo.rocks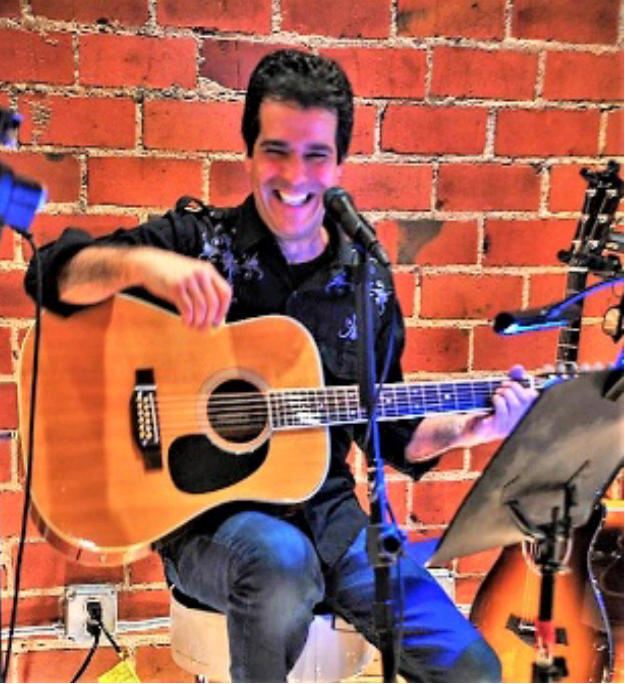 Geno Orphanopoulos,
What Musical Genre Do You Feel Best Describes Your Music And How Would You Describe Your Sound?
My genre has been described and acknowledged as Rock, Pop Rock, Trop-Rock, Latin Rock, and good ol' Rock 'n' Roll. My recent releases of my solo album GENEOLOGY and single CRAZY WORLD have all of these genres included.
How Did You Get Your Name? Is There A Story?
My last name is from my Greek lineage, with 13 letters! My birth name is Gene, but as far back as being a kid in elementary school, I was nicknamed Geno. My full name is too long for an article or at the Top of a Marque, so I decided on Gene O., which sounds the same as my nickname when you say it. Shorter and easier to pronounce!
What Are or Have Been Your Musical Influences?
I grew up and honed my chops during the era of incredible music from the '60s, '70s, and '80s. I have a wide variety of music that I enjoy, but my favorite genre to write and perform in is Rock. So, artists that have been the most influential to me have been The Beatles, Bad Co., Boston, Bryan Adams, Crosby Stills & Nash, The Doobie Brothers, The Eagles, Foreigner, Peter Frampton, Mark Farner's Grand Funk Railroad, James Taylor, Journey, Led Zeppelin, Montrose, Stevie Wonder, Styx, Van Halen, and Queen to name a few. All have incredible vocals, which I admire the most.
What Are You Working On Now? Any Future Collaborations We Can Look Forward To?
Yes! I'm in the process of completing my next Single called "COOL" featuring my talented friends that include Grammy-Award Winning Trumpeter Steffen Kuehn and my fellow Greek buddy Teddy "Zig Zag" Andreadis who in 1999 was voted "Outstanding Keyboardist of the Year" by the L.A. Music Awards. Teddy has toured with Carole King, Guns N' Roses, Chuck Berry, Bo Diddley, Alice Cooper, and recently with The Boxmasters. He plays the keyboards, organ, and sax on this tune. "COOL" also features drums and percussion by my co-producer and co-songwriter, Jimmy Goings, who's also the frontman of Generation Esmeralda, a band whose sound is a mix of high energy Latin Rock dance grooves with melodic hooks, a gypsy-infused Flamenco with a splash of cha-cha punctuated by a driving 4-piece horn section. This is the new sound I wanted to experiment with, so Jimmy was the perfect choice for me as co-producer, and I'm also featuring the tenor harmonies of my younger brother, George Orphanopoulos, a fantastic drummer and singer himself. Strange as it may seem, this is the first time we've recorded together, so it's a special project for me personally. I'm so happy to have them, along with some of my other talented friends, all performing on this upcoming release.
And as a bonus this year, I've re-connected with my bandmates from my former all-original band, The Make. We recorded 15 songs during our 4-year run while headlining shows in the San Francisco Bay Area. But this was years ago, and we never released our songs in today's digital format, until now! Our pal Jimmy Goings was also our original producer back then, and he's taken the helm once more as we're about to release our Remastered album "The Makeup Sessions" with plans for a worldwide release this spring. The Make songs have great hooks, catchy rock 'n' roll melodies and harmonies, and danceable grooves. We're all very proud and excited to share this album with all of our fans, both old and new.
What Is Your Ultimate Goal In The Music Industry? What Is Your Plan Of Action?
I'm a seasoned veteran in the music business, and I've shared the stage and jammed with many Major Label recording artists, including some of my heroes like Ronnie Montrose and Mark Farner of GFR. My goal when I was younger was of course to get signed by a record label. I came close in '84 with my band Addiction, but that's one of those horror stories you hear about the music biz back then. I took a long hiatus to raise my kids, and today I'm still enjoying the craft of songwriting and seeking to have my songs licensed for use by a major recording artist, film, television, commercial, or even video games. In the past 8 months, since releasing my latest single "CRAZY WORLD" in August 2020, I've signed three (3) separate publishing deals for three different songs. (1) "Keep on Believin' " and (2) "Sweet Infatuation" (both off my debut solo album "GENEOLOGY"), and (3) "Shake It All Up", recorded with my former band The Make. I plan to continue to create new music and submit as many of my songs for sync-licensing opportunities, performing again once the music venues can safely do it, and enjoying the ride while I still can!
What Is Your Favorite Track To Perform Live and Why?
I would have to say, of the songs I've recorded so far as a solo artist, my favorite song to sing & perform live is the first track on my debut solo album, KEEP ON BELIEVIN'. It's a song with a message of positivity and hope, which I think we could all use right now in this "Crazy World" (pun intended!).
What Has Been The Biggest Challenge In Your Career Thus Far?
Well, the music industry and the business itself has changed so much over time and the biggest challenge for me has been to educate myself with all the new opportunities, back-end administration, marketing, and self-promotion tasks required by an Indie Artist to become relevant in today's streaming world, and to give my songs the exposure they need so hopefully it'll make my tunes well-known. Perhaps this interview can take me a step further towards that goal! I've always been interested in learning, and as I delve back into the music business I'm learning something new every day.
What's Your Typical Songwriting Process?
I generally come up with the music first, usually while playing my guitar. But, I've also written lyrics and added the music to give the lyric the melody and structure it needs to support them. But, as many songwriters will tell you, many times the song comes through me all at once. It's like I'm the vessel and out of nowhere this inspiration flows through me and a complete song materializes. I also enjoy collaborating with my other songwriter friends, some who are featured on my solo album GENEOLOGY such as the tune "Someday She'll Know" written together with my lifelong ng pal Cameron Dye, a Los Angeles Actor and singer-songwriter himself. I'll get inspiration and immediately grab my phone and say the words, sing the melody or bass line that I hear in my head into the Voice Recorder app. From there, I build around the idea. I'm very particular about shaping a song to be a harmonious combination of lyric and melody, so I find myself spending a lot of time "wordsmithing" lyrics in order to just right to compliment the phrasing, cadence, and delivery of the performance that's best for the song.
How Has Social Media Influenced Your Career As An Artist?
Ha! Well, I do post regularly on Facebook and have since 2010. That's been my primary Social Media platform until I discovered the ReverbNation site that caters to and offers exposure to Indie Artists like myself. There's always new social media platforms that will come and go, so I'm doing my best to keep up with them and learn how to leverage them to my advantage. Of course, anyone can self-publish today on social media and easily get their songs on Amazon Music, iTunes, Spotify, etc. But, don't get me started on the thousands of a fraction of a penny that these platforms pay artists in royalties. The fees are unbalanced and not in favor of the music creators, so maneuvering around that and finding other ways to monetize my work and intellectual property is a constant learning experience.
What Are Some Tracks and Artists Currently On Your Playlist?
It's funny, I get asked that a lot. I actually spend a lot of my time now writing my own tunes and listen occasionally to my local rock, smooth jazz, and country stations. I'm not a country boy, as I've lived in the San Francisco Bay Area most of my life, but the Country-Rock genre is another one that I'm exploring and I'm in the process of finishing a new song in that genre called "The One For Me" that I'm planning to shop as a demo to either a male or female country artist, or both as a duet.
What Did You Do Before You Started Making Music?
I started playing guitar at age 10 on a Spanish-style nylon string guitar. By the time I was 14, I had picked up my first electric guitar, heard The Beatles and Led Zeppelin, and found the joy of rock 'n' roll. I got involved in Musical Theater in my late teens and early twenties, landing leading roles in Musicals and Comedies like "Godspell" and "Stop The World I Want To Get Off". After a few stints in some cover bands, I really focused on songwriting and playing in bands with original music, and the rest is history! Of course I had to keep a day job so I could take care of myself, so during my early adult years I became a sales professional and climbed the ranks of management to become an award-winning executive. It was a natural fit for me as a seasoned frontman and interpreter of words to capture an audience.
Any Advice For Young People (Men or Women) That Want To Succeed In The Music World?
I've mentored a few already, and I always tell them to follow their passion and don't let anyone tell you that you're not good enough or that you should be like this or like that. I tell them to be authentic! Be yourself and don't pretend or allow yourself to be forced into being something or someone you're not. Everyone has their own strengths and weaknesses, so lean into your strengths and surround yourself with players that are as good if not better then you and learn from each other and practice, practice, practice! Listen to the artists you admire, and try to find your own groove and interpretation of what's inside your head.
What Would You Change In The Music Industry If You Were A Top Music Executive?
Firstly, I would find a way to compensate the creators, the songwriters, with a much fairer royalty payout for their songs. Secondly, I would invest into giving Indie Artists, the ones creating new music, a platform to give the better ones a shot at getting exposure to a new and perhaps bigger audience. I remember while in my band Addiction that we opened for Huey Lewis and The News at the Concord Pavilion in the SF Bay Area for a concert benefiting the participants of the "Walk America Walkathon". We had no record deal, and though we were selected after competing with other local bands to be the opening act, we didn't get any publicity at all, including the fact our name wasn't even up on the marque. But, it was a sold-out crowd of about 12,000 kids who'd never seen us before. We took the stage, and after our 45-minute set, we received a very long standing-ovation from the crowd, and high-fives from the members of The Jefferson Starship as we came off the stage while they had watched from the wings. Those types of opportunities are unique, and far too uncommon today.
How Do You Feel About Originality?
Originality is everything, and what makes you a true artist. If you're a copycat or disingenuous with your art, then you'll always be one and you'll never be unique. Being authentic is something the audience can feel, and your originality is what draws them in to becoming a forever fan and sharing what they've discovered with their friends. So originality is a big part of being successful in the music industry.
Is There Anything Else We Should Know About You Or That You Would Like to Add?
I'd just like to share with your audience that, no matter what age you are, young or more mature, never stop believing in yourself and continue to follow your passion with music, whatever that is. Music shapes our world. It's like a time capsule that'll bring you back to the first time you heard a song, what you were doing, what you were wearing, who you were with. It's the magic that resonates within all of us. I wish everyone could know what it's like to be a singer, songwriter or performer, but perhaps the closest some can get to that is just becoming a good listener and supporter of new music. Keep on listening to and supporting new music and artists, together we can make this world a better place.