Artists Name/Band: StarDog Champion
Music Genre: Folk
Other Genres: Country, Blues
Websites or Social Media Pages
Reverbnation: https://www.reverbnation.com/stardogchampion3
Facebook: https://www.facebook.com/thedogstemple
StarDog Champion (Sini Joldic) is a Croatian Singer/Songwriter who lives and works in Germany. After 25 Years playing Drums in several Bands, the Musician decided in 2012, to put the Drumsticks aside. With his former Bass-Player, he founded an acoustic Duo (StreetDog Foundation), where he resumed Songwriting and Singing. Also, he improved his Guitar-Skills. It went well, one CD has been recorded, concerts been played. But after 5 years the band split. Under the Name "StarDog Champion" Sini Joldic widened as a Solo – Artist. 2019 he recorded his Solo Debut "from this Point … all alone!" with 6 Songs released in April 2020 He kept on writing songs and performing live in Germany, Austria, and Croatia. in March 2021 he released the Single "Anyway Gone" and the EP "Quarantine Sessions".avaible at all Major Online Stores. At the moment he is again in writing Progress for new Songs!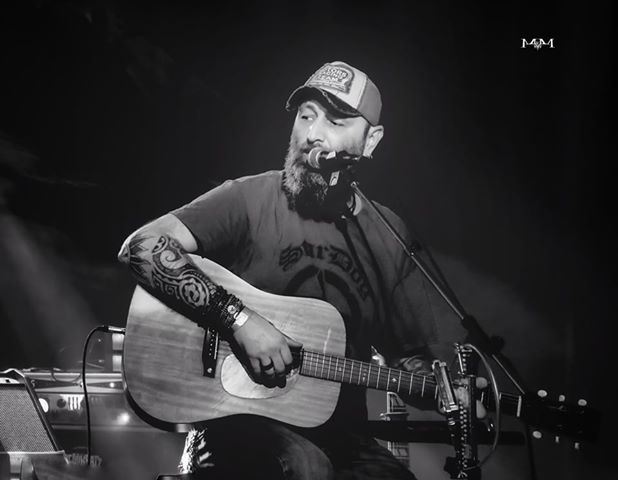 StarDog Champion,
What Musical Genre Do You Feel Best Describes Your Music And How Would You Describe Your Sound?
Singer Somgwriter (Folk, Folk-Rock with touch of Country and Blues). I would describe mound as an pure accoustic Sound, pure and honest as possible.
How Did You Get Your Name? Is There A Story?
I called myself after the Song "Stardog Champion" from my favorite Rockband "Mother Love Bone". Also this Name means to me, that if you are even an Underdog, you have to be strong and go your Way dosen't matter what others say. At the End, when you survived all the struggles, you can become a StarDog Champions
What Are or Have Been Your Musical Influences?
I grown up with 60ies, 70ies Music like The Beatles, The Doors, Jimi Hendrix, Sweet Smoke, Bob Dylan, etc. When i was older I did ofered more Songwriters like Bruce Springsteen, Neil Young, Bob Seger, Ben Harper etc.
What Are You Working On Now? Any Future Collaborations We Can Look Forward To?
In March 2020 i released the Single "Anyway Gone" and the EP "Quarantine Sessions", both are available ble at all Major Online Stores and can be listened on Spotify. At the Moment i'm looking forward to record another 7 Songs i wrote in the last 3 months and get them ready for release.wich will take a few months i think.
What Is Your Ultimate Goal In The Music Industry? What Is Your Plan Of Action?
I formed my own Label directly "Eleanor Entertainment", so i can distribute my own Music directly to the People. My Goal is, to play as much as possible live, touring trough Germany and Europe and get the my Music and my Name known.
What Is Your Favorite Track To Perform Live and Why?
Wings
I wrote this Song for my Daughter Annamaria 7 Years ago. It is one my favorite Songs to play Live, because everytime i play it, i fell very close to her and that make feel good when i am alone on the Road.
What Has Been The Biggest Challenge In Your Career Thus Far?
As i decided in 2012 that i wil stop playing Drums in Bands after 25 Years and begin to play Guitar and write own Songs and get an accoustic Duo with my former Bassplayer started, that was pretty challenging, but then in 2017 when we splitted i stood there alone and made the decision to go on further alone and start an carrer as an Solo Artist, i would say this was the biggest Challenge.
What's Your Typical Songwriting Process?
I take my Guitar let the Inspiration flow and jam around. A soon as i have some tune wich express my feelings i start to create the singing part where i just sing som meanless words and melodies. After that is done i write the Lyrics.
How Has Social Media Influenced Your Career As An Artist?
The Good thing of Social Media is, that you are able to show your Music and Art to people worldwide, and get connected with them.
What Are Some Tracks and Artists Currently On Your Playlist?
Zack Wylde- Lost Prayer
Neil Young – Powderfinger, Helpless
Bruce Springsteen- Youngstown
Bob Seger- Nightmoves
What Did You Do Before You Started Making Music?
On the Weekends i played Drums in several Rock Bands, and worked different Jobs for pay my Living.
Any Advice For Young People (Men or Women) That Want To Succeed In The Music World?
Stay focused, know what you want and hoe to get it! Dont listen to others who want to tell you that you are wrong. But be able to take advices from People who know it better and proof it.
What Would You Change In The Music Industry If You Were A Top Music Executive?
I would focus more Money and Time searching for good and talented Artists and Bands to sign them an build them up, instead to look just only for the Profit.
How Do You Feel About Originality?
This is all what its about!!!