Name: Calvin Allen
Music genre: Christian
Bio
I am a Gospel songwriter/singer who has written, recorded, and produced many songs. My music is listed under the genre of Gospel, with the sound of R/B soulful style and instrumentation that induces audiences to relax while being uplifted and inspired by the lyrics. My music has a taste of "old-school" smooth sound that brings back the sounds of the 70s, 80s, and 90s, while it focuses on a melody that relates to the contemporary listener's preference. Each song is a testimony of God's grace and mercy my life, and my gratefulness towards a God that recovered me from two devastating deaths, after my deliverance from a life of destruction.
My journey into the music world began at the age of 6 when I was given an electric guitar by my elder sister for a Christmas present. During my elementary school years, I would sneak into the school auditorium early in the morning before school doors would open to learn to play the piano. Later, while completing a tour of duty in Darmstadt Germany, I formed a band, naming the band "The Ross Allen Four," and played at many events in and around Darmstadt and other cities in Germany.
It wasn't until my move to New York in the early 80s that I began to feel I was gifted in writing lyrics. My first written song titled, "Problem Child," was later produced as a Weekly TV Show, titled "Problem Child 1&2. The lyrics for the song were written in studio in 15 minutes. However, in recent years, God began to give me melodies and gospel lyrics in my head almost weekly. I write as many as two songs per month, with melody arrangement as I hears it in my head.
latest release, "My Mind is on Jesus, will be released June 13, 2021 on all platforms and in stores,, and is a testimony of God's grace in my life,, and a message to the world proclaiming God's desire to save, deliver and redeem even the lowest of the lowest: His love for the sinner and a call to reach out to Jesus for help in all situations.. through the grace of God I have won four "Best Gospel Music Awards" from Poze Production Records..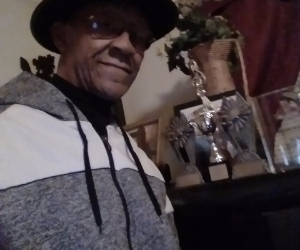 Website or Social Media Page
https://www.reverbnation.com/brothercalvinallen
Links to Where My Music Can be Purchased
https://tidal.com/browse/artist/7539003
https://open.spotify.com/artist/4P2vYJQZn0ezypFxusPLhX?si=9edw3W6YQOOQEHwwC_UVIQ&utm_source=copy-link
https://www.amazon.com/s?k=Brother+calvin+allen&i=digital-music&ref=nb_sb_noss
https://music.apple.com/us/artist/brother-calvin-allen/1453172122
https://www.deezer.com/us/album/213515432?deferredFl=1
My social media links
https://m.facebook.com/calvinallen450/?ref=m_notif&notif_t=page_user_activity
https://mobile.twitter.com/calvinallen450?ref_src=twsrcgoogletwcampserptwgrauthor
Youtube Link To My Video
https://youtu.be/fGOt4d-DnvY