Artists Name/Band : The Swinging Chads
Music Genre : Rock
Other Genre : Americana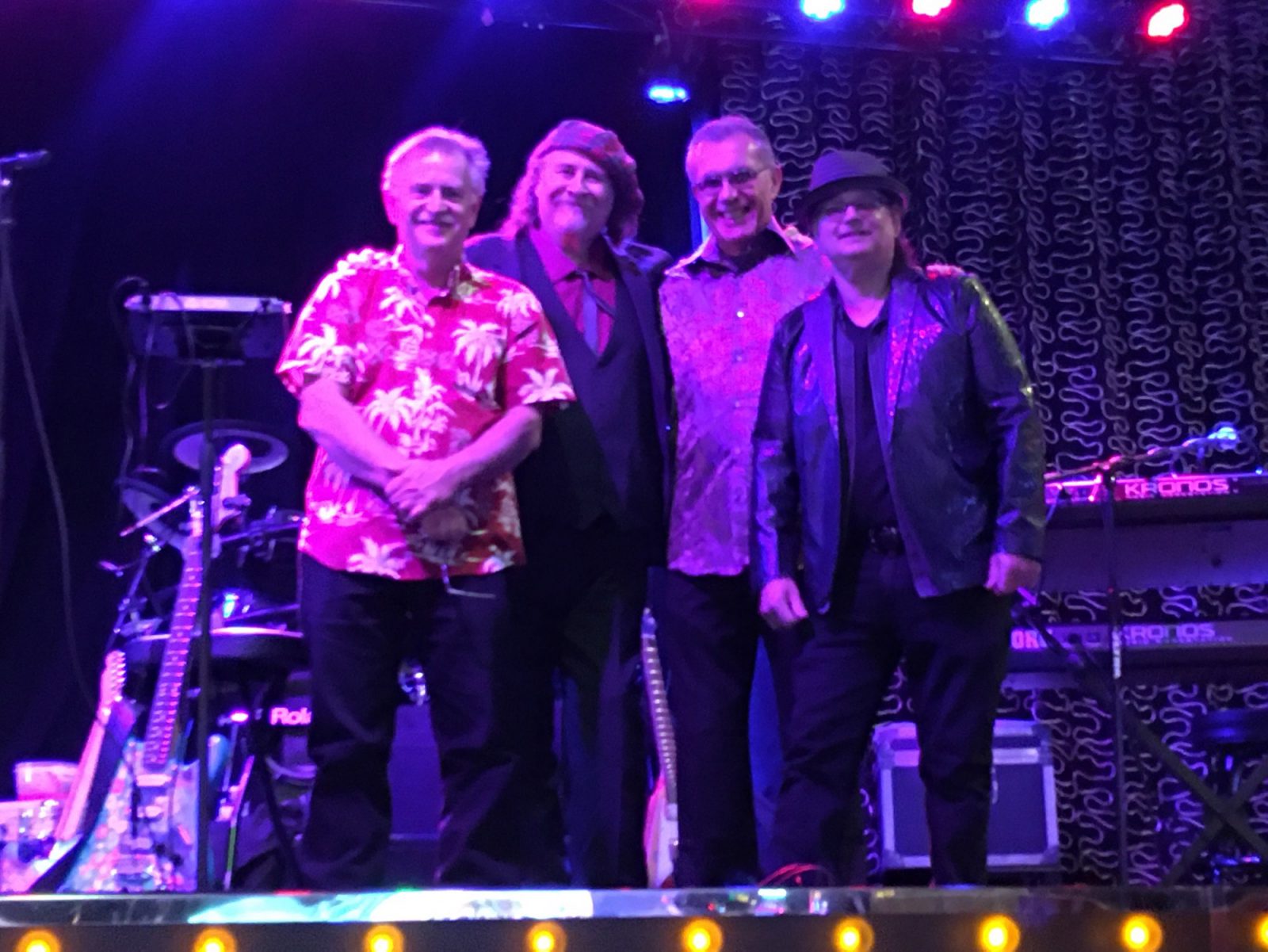 Randy Mcgowan,
What Musical Genre Do You Feel Best Describes Your Music And How Would You Describe Your Sound?
Americana,Blues.Rock and Soul,Country,
How Did You Get Your Name? Is There A Story?
A weekly gig in downtown ,Napa California for a few years offered many an evening to play our music to many visitors looking for wine and a band to make the toe tap and swing dance.To locals in the area had mostly a name of front singer. We are a band with a great list of original tunes as well as covers.
What Are or Have Been Your Musical Influences?
As a high school student in The San Francisco Bay Area.Little Charlie Baty and I played the Blues,Chicago.Memphis.Oakland and The UK was our data base to learn and love our craft .Ravenfox had a audition with The Doobie Brothers producer in 1971.Our music was driven by music from Brazil and Latin / Jam band flavors .Azteca,Santana and sounds of The Fillmore
What Are You Working On Now? Any Future Collaborations We Can Look Forward To?
My publishing catalog goes back five decades, As a composer,I am revisiting this music from different times and places in my career, The song ;Why you Driving This Thing is very new,Playing many casinos in the southwest has inspired me to take that story and send it the blues/soul music that i have played most of my life.
What Is Your Ultimate Goal In The Music Industry? What Is Your Plan Of Action?
The Joy of this gift is to continue to bring that joy to my fans.A new pack of tunes are trying to escape as we speak
The recovery from throat cancer six years ago was reboot of my pro standing in my musical grid.The fresh start lit up new music with old friends.Norman Collins,Doug Adamz,Ken Ingels and Stephan Sea.The Swinging Chads are off and running for a third LP
What Is Your Favorite Track To Perform Live and Why?
Blue Sunshine from our second record. A sonnet written in Maui.The Rainbow at night during a full moon on a stormy ocean let me to sing of this Blessing from above. Always a favorite at gigs
What Has Been The Biggest Challenge In Your Career Thus Far?
Endurance of four one hour sets for six nights a week is rough ride in our current state of age,location and personal that will travel.
What's Your Typical Songwriting Process?
I have music in me trying to get out all day and all night.I am fed new ideas during worship music at church.I draw from the musical masters of Gospel Music.Andre Crouch.Clark Sisters,Albertina Walker,Danibelle Hall. I did have the privilage of working with Danibelle quite a lot,
How Has Social Media Influenced Your Career As An Artist?
Yes the access to a current list of musical artists is quite breath taking.
What Are Some Tracks and Artists Currently On Your Playlist?
Tasha Cobb Lennerd /You Know My Name.Lauren Dangle[You Say The new.Old acts from The UK ;Paul Ringo.Stones ,The Who,Procal Harum.Sting and Fleet wood Mac
What Did You Do Before You Started Making Music?
In 1965 I have a few paper routes.Five years of the study of music got me to comprehend the language A job as a studio musician did clarify my expertise A band leader.Side man.Producer.Booker.all these jobs continue is one form or another
Any Advice For Young People (Men or Women) That Want To Succeed In The Music World?
Continue the joy at all time. This gift is made to share
What Would You Change In The Music Industry If You Were A Top Music Executive?
Be motivated as a musical advocate and a business partner.
How Do You Feel About Originality?
We look for a familiar anomaly Outstanding but a comfort to soul
Is There Anything Else We Should Know About You Or That You Would Like to Add?
I have been spinning this for over five decades.This is my best music . that has the timing of art and expression as an open channel to bless my fans ,friend and family,
Randy Mcgowan,
What Musical Genre Do You Feel Best Describes Your Music And How Would You Describe Your Sound?
Americana,Blues.Rock and Soul,Country,
How Did You Get Your Name? Is There A Story?
A weekly gig in downtown ,Napa California for a few years offered many an evening to play our music to many visitors looking for wine and a band to make the toe tap and swing dance.To locals in the area had mostly a name of front singer. We are a band with a great list of original tunes as well as covers.
What Are or Have Been Your Musical Influences?
As a high school student in The San Francisco Bay Area.Little Charlie Baty and I played the Blues,Chicago.Memphis.Oakland and The UK was our data base to learn and love our craft .Ravenfox had a audition with The Doobie Brothers producer in 1971.Our music was driven by music from Brazil and Latin / Jam band flavors .Azteca,Santana and sounds of The Fillmore
What Are You Working On Now? Any Future Collaborations We Can Look Forward To?
My publishing catalog goes back five decades, As a composer,I am revisiting this music from different times and places in my career, The song ;Why you Driving This Thing is very new,Playing many casinos in the southwest has inspired me to take that story and send it the blues/soul music that i have played most of my life.
What Is Your Ultimate Goal In The Music Industry? What Is Your Plan Of Action?
The Joy of this gift is to continue to bring that joy to my fans.A new pack of tunes are trying to escape as we speak
The recovery from throat cancer six years ago was reboot of my pro standing in my musical grid.The fresh start lit up new music with old friends.Norman Collins,Doug Adamz,Ken Ingels and Stephan Sea.The Swinging Chads are off and running for a third LP
What Is Your Favorite Track To Perform Live and Why?
Blue Sunshine from our second record. A sonnet written in Maui.The Rainbow at night during a full moon on a stormy ocean let me to sing of this Blessing from above. Always a favorite at gigs
What Has Been The Biggest Challenge In Your Career Thus Far?
Endurance of four one hour sets for six nights a week is rough ride in our current state of age,location and personal that will travel.
What's Your Typical Songwriting Process?
I have music in me trying to get out all day and all night.I am fed new ideas during worship music at church.I draw from the musical masters of Gospel Music.Andre Crouch.Clark Sisters,Albertina Walker,Danibelle Hall. I did have the privilage of working with Danibelle quite a lot,
How Has Social Media Influenced Your Career As An Artist?
Yes the access to a current list of musical artists is quite breath taking.
What Are Some Tracks and Artists Currently On Your Playlist?
Tasha Cobb Lennerd /You Know My Name.Lauren Dangle[You Say The new.Old acts from The UK ;Paul Ringo.Stones ,The Who,Procal Harum.Sting and Fleet wood Mac
What Did You Do Before You Started Making Music?
In 1965 I have a few paper routes.Five years of the study of music got me to comprehend the language A job as a studio musician did clarify my expertise A band leader.Side man.Producer.Booker.all these jobs continue is one form or another
Any Advice For Young People (Men or Women) That Want To Succeed In The Music World?
Continue the joy at all time. This gift is made to share
What Would You Change In The Music Industry If You Were A Top Music Executive?
Be motivated as a musical advocate and a business partner.
How Do You Feel About Originality?
We look for a familiar anomaly Outstanding but a comfort to soul
Is There Anything Else We Should Know About You Or That You Would Like to Add?
I have been spinning this for over five decades.This is my best music . that has the timing of art and expression as an open channel to bless my fans ,friend and family,