Name: Ed Maina

Music genre: Jazz

Bio

ED MAINA BIO
Instrumentalist/ Educator
(Woodwinds, EWI)
Ed Maina Music, Do It Again Records
1969 – Present
Ed Maina is very active as a woodwind soloist and clinician as well as an educator. He earned his Bachelor of Arts degree in Studio Music and Jazz Studies and a Master of Music Degree in Jazz Pedagogy from the University of Miami. He was the Associate Director of Bands, as well as the Orchestra Director at Flanagan High School in Pembroke Pines from 2007- 2019. Prior to teaching at Flanagan, Ed Maina was the Director of Bands at Lawton Chiles Middle School for seven years and thirteen years at Westview Middle School, both in Miami-Dade County. While there, he earned the coveted "Louis Armstrong Fellowship Award", awarded by the International Association of Jazz Educators for excellence in Jazz Education (1992).
While fulfilling his duties as an educator, Ed traveled several times a year performing concerts and clinics. He also was one the coordinators of the Superintendent's Honors Jazz Band (Miami-Dade County), and has also been the guest conductor/ clinician for Miami-Dade, Broward, Palm Beach County Honor bands. He was also a selection adjudicator for F.B.A., Middle School All-State bands for two years.
Some of his performing and recording* credits include The Maynard Ferguson Orchestra, Linda Eder, Frank Wildhorn, Will Lee, Michael Feinstein, Broadway Musical Soundtracks- "Jekyll and Hyde" and "The Scarlet Pimpernel", Natalie Cole, Frank Sinatra, Paul Anka, Jon Secada, Chaka Khan, The Funk Brothers (Motown), Pebo Bryson, Gladys Knight and the Pips, Charytin* (Univision), Ednita Rosario, Linda Ronstadt, the Nelson Riddle Orchestra, Chubby and Duffy Jackson, Mike Gerber, Ira Sullivan, Nester Torres, Randy Bernsen* with Jaco Pastorius* , Mike Lewis, Louie Bellison, Oscar Peterson, Mel Torme, Johnny Mathis, Vic Damone, Kenny Rogers, Steve Lawrence and Edie Gorme, Bob Hope, Rick Krive, Mike & Nicky Orta, Gary Campbell, Toni Bishop, University of Miami's Concert Jazz Band (with Ed Calle, Rick Margitza, Michael Brecker, Pete Minger, Dave Liebman, Bob James), Tom Brooks, Abraham Laboriel Sr., Darlene Zschech (Hillsong), Steve Reed (The Rippingtons'. percussionist), The O'Jays, The Temptations, The Spinners, The Stylistics, Deana Martin, 14 Jazz Orchestra, Barry Gibb
Ed Maina still performs, records, private teaches and is a missionary in the prisons of Florida, Louisiana, and Montana with the International Solid Rock Ministries. He is now retired after 32 years in the Florida School System eand resides in Chattanooga, TN., is happily married (38 yrs) and very proud of his two sons, Michael and Justin, and daughter, Priscilla who is an accomplished flute player, Frost Young Musicians Camp alumnus, and is retired from the USMC Band. She is also featured playing Bass Flute on Amazing Grace on her dad's debut CD/album…Released in 2017, "In the Company of Brothers",features Abraham Laboriel Sr., Ira Sullivan, Kemuel Roig, Oskar Cartaya, Gaby Vivas, Rick Krive, Jim Gasior, Gustavo Eraso and many others!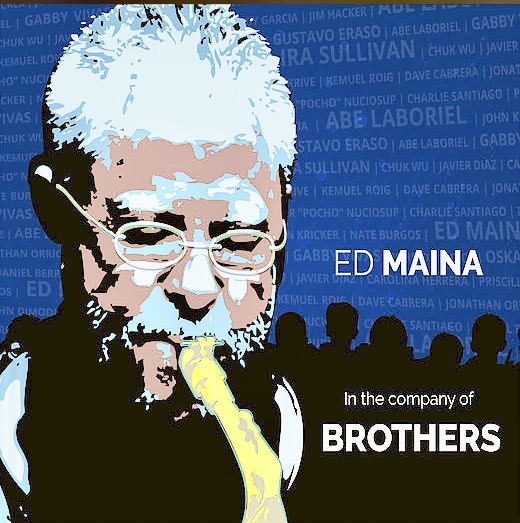 Website or Social Media Page
http://www.edmaina.com/

Youtube Link To My Video
https://youtu.be/wxVRfk22DIs

Links to Where My Music Can be Purchased
http://www.edmaina.bandcamp.com/